Day 1
The Daily Cappadocia tour includes

- Pick-up from your hotel
- Flight to Cappadocia
- Visit of Fairy Chimneys
- Goreme Open Air Museum and Avanos
- Kaymakli Underground City
- Flight to Istanbul and transfer to your hotel
WHAT YOU VISIT

Transfer from your hotel to take the early morning flight from Istanbul Ataturk Airport to Kayseri. Arrival and meeting at the airport just outside the arrivals gate with a sign bearing your name and transfer to Cappadocia. First meeting with the lunar landscape of
Cappadocia: rock formations beyond belief in Devrent valley; visit to Pasabag "fairy chimneys" where the voice of wind mixes with the "songs of fairies". Pasabag valley contains some of the most striking fairy chimneys in Cappadocia with twin and even triple rock caps. This style is unique even for Cappadocia and these fairy chimneys are named mushroom shaped fairy chimneys.
Afternoon, visit the famous Goreme Open Air Museum and see the best examples of Byzantine art in Cappadocia in rock-cut churches with frescoes and paintings (10th to 13th century). Continue to Avanos, center of terra cotta work of art since 3000 BC. and a demonstration in a traditional pottery workshop. Visit to Kaymakli Underground City,
one of the most interesting underground settlements in Cappadocia. People of Kaymakli (Enegup in Greek) village have constructed their houses around nearly one hundred tunnels of the underground city. The inhabitants of the region still use the most convenient places in the tunnels as cellars, storage areas and stables, which they access through their courtyards.
Kaymakli Underground City has low, narrow and sloping passages. While the city has 8 floor, only 4 of them are open to the public today, in which the spaces are organized around the ventilation shafts. Same day in the evening, transfer to Kayseri Airport to take the evening flight to Istanbul Ataturk Airport. Upon arrival in Istanbul, transfer to your hotel.
WHAT YOU SEE ALONG THE WAY

Extraordinary, soaring rock formations. Exciting walking trails. Mysterious underground cities and rock-cut churches. A troglodyte lifestyle that dates back to the Middle Ages. All this and much, much more.
| | |
| --- | --- |
| - | The above program can be modified according to your preferences. |

Select a Category

Related Sites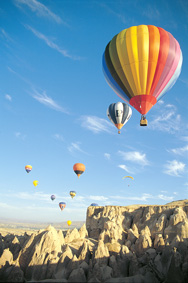 Experience the magic of a balloon flight and let the world below drift away. Feel the exhilaration of morning-fresh country air. Every flight is a fantastic adventure as you float intimately amongst the fairy chimneys and soar over the magnificent Cappadocian landscape.