"The Jerusalem of the Aegean" is one way of describing Patmos or Patnos, as it was referred to in one 5th century in-scription. It was here that St. John the Theologian was exiled between 95 and 97 A.D. and was inspired to write the Book of Revelation or Apocalypse. Later the emperor Alexios Komninos ordered the monk Christodoulos Letrinos to found a monastery in honor of the Apostle. Thus the holy monastery of Patmos was built, the most important landmark on the island.
In September 1995 it was celebrated the anniversary of the 1900 years from the date that the Book of Revelation was written Patmos, situated between Leros and lkaria, is a mountainous island with rocky soil and an abundance of small coves. The majestic fortress - monastery crowns the hill above the port, surrounded by dazzling white, cubelike houses which spill down its flanks.
Interspersed among them are miniscule churches and grand sea captains' mansions, separated from each other by narrow lanes, high walls and small squares opening onto breath-catching views over the Aegean. The construction of the monastery began in the 11th century. It is circumscribed by massive grey stone walls with battlements that protected the main church and another five chapels.
Its extraordinary treasury contains Byzantine and post-Byzantine icons, sacred vessels, 9th century embroideries and other priceless objects, while its library houses parchment documents, patriarchal seals, illuminated manuscripts and rare old books. In the chapel dedicated to Our Lady frescoes can be seen which date to 1210-1220.
| | | |
| --- | --- | --- |
| Ships arriving at Patmos dock in the island's harbor Skala, a lively place with its white houses, flowered courtyards, fish tavernas, hotels, restaurants, cafes and shops. North of Skala is the village of Kambos, set among trees and greenery and near it is what many consider to be the island's finest beach. Patmos' s indented coastline conceals a host of lovely beaches. Among the favorites are Grigos, Kallikatsou, Psili Ammos and Diakofti. | | |

Select a Category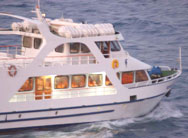 While following your Biblical tour program in Turkey, you may use our boats to take your group to Patmos Island for a daily trip. By chartering the boat, you may visit this holy island, tour the Monastery of St. John, The Holy Cave, and have a Mass. Private ferryboat charter service for Samos and Patmos Islands, Greece.