Old traditions of the island as well as historical texts determine as location of writing of the "Revelation" by John The Evangelist, the Grotto of the Revelation which is considered the most important sanctuary on the island. The Sacred Grotto of the Revelation is surrounded today by the large monastic block of the Monastery of the Revelation which stands out with its local whiteness.
The few steps, hewn on the rock, lead us to the simple door of the entrance to the Monastery. The cells, the yards that are bedecked with flowers, the chapels that are built at different elevations, the curved, almost cylindrical, domes of the chapels, impart an impression of a pleasant, albeit mysterious building arrangement. The Sacred Grotto is located at the lowest level of this block of buildings.
Coming down the steps leading to the Sacred Grotto, we meet, on our way, the Chapels of Saint Nicholas and Saint Artemios, as well as of Saint Anne, which is built exactly in front of, and next to the Grotto. The Sacred Grotto appears as forming part of the Chapel of Saint Anne, but actually it forms by itself a very small church dedicated to John the Theologian.
A monk is stationed there, always available to guide gladly anyone wishing to visit the Grotto which is about 4 meters deep. At a certain spot, in the grotto , and on the rock, the monk will show you the Cross which was carved, according to Holy Tradition, by John the Evangelist. He will also show you a triple fissure from where the voice was heard which told him to write the "Revelation", and the spot where John was lying to sleep.
The exact location of the Grotto, besides the aforementioned points was also determined from old texts which report that John lived at a locality between Skala and Chora. John the Evangelist wrote the "Revelation" in Patmos, as he himself tells us along with many other ecclesiastic writers: Clement of Alexandria, Origen, Irinrus, Eusebius, and others. The text of the "Revelation" is one of the most important of the eschatological Literature.
| | | |
| --- | --- | --- |
| The first building of the entire block which is the Chapel of saint Anne, was constructed, according to the tradition, by Holy Christodoulos in the year 1088. At the beginning of the 17th century, the Bishop of Caesaria Grigorios founds and builds the Monastery. About at the year 1800, the founder of the Patmian School, Makarios Kalogeras, completes the first constructions with the addition of new buildings. Thanks to the care and love of the monks, the entire edifice is, even today, in excellent condition. | | |

Select a Category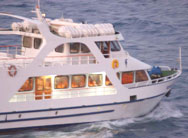 While following your Biblical tour program in Turkey, you may use our boats to take your group to Patmos Island for a daily trip. By chartering the boat, you may visit this holy island, tour the Monastery of St. John, The Holy Cave, and have a Mass. Private ferryboat charter service for Samos and Patmos Islands, Greece.