The Monastery of St. John the Theologian crowns the island of Revelation, in Patmos and is one of the most charming and most impressive monuments of Orthodoxy and of the Byzantine civilization. Inside the Monastery the library is located, one of the ancient libraries with a continuous history in the same place where with the list referring to the finder of the library, Holy Christodoulos.
The historic library of Patmos is considered today one of the most important and best organism libraries of Christianity, and we can divide the spiritual wealth in following categories : (a) codes and (b) manuscripts.
At the beginning of the 13th century, according to the Catalogue, the library was consisted almost from codes of theological context From the 267 vellum codes and the 63 cotton, 330 in total: 109 were liturgical, 107 are characterized ethical and with the 31 about saint, they consisted the theologian part of the library. The rest had a variety of subjects and only 20 codes have a cosmic character and one is referred to a classic text :Aristotle's Accuses.
<The library of the Monastery of St. John the Theologian had the same fate as all the other monastery libraries, where each Archbishop decides the future of the library. The 1355 Catalogue shows impressive opening to the spiritual horizons, and in the middle of the 14th century, many books of all kinds arrive to Patmos and the monks start reading Xenofonta, Platon.
The great Philosophical School of Mystra and the contribute of the Byzantine educated people at the spiritual centers in Italy. (From the end of the 14th century), and the merchandise of classical manuscripts, didn't make the monks get interested on more modern issues.
The vital spirit of Constantinople to the west, didn't have any effect on the library of the Monastery of St. John , and even the number of the books didn't stop being increased, all the subjects were religious. The library, The Soul Hospital according to the marble label of the bishop of Laodicea Nikiphoros (1802), it is consisted of a central room with rooms around it where the archive has been placed and the biographical material.
In the central room with the stone columns that support the plaster arches, a typical sample of the Monastery architecture, there have been built special bookcases that cover all the walls where all the manuscripts and old books are placed.

Select a Category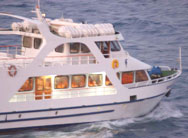 While following your Biblical tour program in Turkey, you may use our boats to take your group to Patmos Island for a daily trip. By chartering the boat, you may visit this holy island, tour the Monastery of St. John, The Holy Cave, and have a Mass. Private ferryboat charter service for Samos and Patmos Islands, Greece.