City Beach
Located in the centrum, the sandy beach provides a perfect environment.

Gold Beach
The golden sandy beach of Gold Beach is ideal spot for a holiday, located between Emekli Sandigi camp and Emektur Area.
Pigeon Island Beach
A private beach, situated on the shore of the island. Ideal for the swimmers enjoying translucent and deep waters of the Aegean.

Silver Beach
Excellent clear waters of Silver Beach awaits to be explored. The beach is located around Ozlem Site and SSK Site.
Yilanciburnu Beach
A quiet beach, located on the peninsula behind Pigeon Island. It can be reached by Kadinlar Denizi (Ladies Beach) minibuses in every 5 minutes.

Paradise Beach
Situated between Aykustur and Sokeliler site, Paradise Beach offers a perfect environment.
Ladies Beach
The powdery sandy beach of Ladies Beach provides excellent entertaining within its borders. Kadinlar Denizi (Ladies Beach) minibuses departure from the city centrum in every 5 minutes.
Kustur Beach
With its varied activities including water-skiing, parasailing, surfing, Kustur Beach is located on the 6th km of Selcuk road, and can be reached by minibuses from the city center.
Tusan Beach
Situated just near Kustur Beach , Tusan Beach offers unlimited fun with the various choices of beach & water activities. The beach is located on the 7th km of Selcuk road and can be reached by minibuses.

Love Beach
Located near Genclik Camp, the Love Beach provides visitors with a perfect opportunity to make water activities and swim in relaxing conditions.
Long Beach
The long sandy beach and crystal-clear water of Long Beach are ideal for swimming, water sports and peaceful resting. The beach is 6km south of Kusadasi, -between Batihan Hotel and Nazilli Site, and can be reached by Sahil Siteleri minibuses in every 5 minutes.

Guzelcamli Town Beaches
The quiet beaches in pretty Guzelcamli offer a restful peace. National Park minibuses pass through the beaches in every 30 minutes.

National Park Beaches
The beaches are located 30km southwest of Kusadasi. Icmeler, Aydinlik, Kavakli and Karasu bays are the principals of the numerous secluded bays and coves in the park. Clear waters of the bays provides an opportunity to dive. Only Icmeler bay has the sandy beach. You will feel the real quietness while resting peacefully in the shades of the pines. National Park minibuses departures in every 30 minutes from Kusadasi.

Icmeler Bay Beach (+1km)

Aydinlik Bay Beach (+5km)

Kavakli Bay Beach (+8km)

Karasu Bay Beach (+10km)

Dipburun Bay Beach (+25km)

Area Profile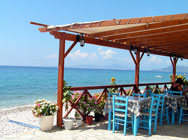 Transfer from your hotel to port on your departure and return transfer on your arrival, Kusadasi / Samos / Kusadasi open return ferry ticket, Kusadasi and Samos port taxes, 1 night accommodation in 4 star hotel in Samos Town on b/b (bed & breakfast), a fix dinner including limited drinks in your hotel, or at a Greek Tavern in Samos Town or in Pythagorion.
Only 99 Euro pp