Aphrodisias

Aphrodisias enjoys both an unbelievable historical richness and a beautiful natural scenery where all green tones from poplar...

Hierapolis

Hierapolis was established by King Eumenes 2 and was given the name of "Hiera" in the honor of the wife of Telephos...

Isa Bey Mosque

Isa Bey Mosque is one of the most delicate examples of Seljukian architecture, situated below the basilica of St. John. The...

Labranda

It was a Carian city close to the religious center Labranda. King Mausolus was born in this city who later on made it the capital...

Artemision

The temple of Artemision is known as one of the Seven Wonders of the ancient world. It has been built in the areas of Ephesus on...

Cave of Zeus

Surrounded mostly by the olive trees and a great variety of the colorful wild flowers of the region, The Cave of Zeus, pretends to...

Ephesus Museum

In the beginning, in 1929, artifacts from diggings and the surrounding were brought here and stored. In 1964, what is now...

Heraclea

A member of Ionian Confederacy, Heraclea, was established on an earlier city called "Latmus" dated back to the 8th century...

Iasos

As one of the most important site of the region of Caria, the history of Iasos dates back to 3000BC. Once situated on an...

Kursunlu Monastery

Situated on the side of the slope at an altitude of 600 meters above the sea level, The Kursunlu Monastery, is believed to...

Select a Category

Historical Sites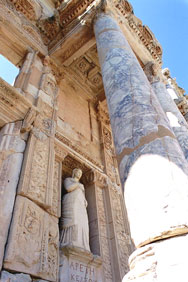 Ephesus is one of the world's most magnificent restored archeological sites of antiquity. You will enjoy privately guided Ephesus Tours, walking along the marble paving, almost hear the steps of marching Roman legions or the ardent preaching of St. Paul addressing the Ephesians.