Metropolis

Metropolis, meaning Mother Goddess, was founded around 725 B.C. and lived its sparkling time during the Hellenistic Period...

Neopolis

Ancient Neopolis stands as the second peninsula, little further to the Pigeon Island. The site was controlled by the Ionians and...

Panionion

Located northwest of Priene, on the northeast corner of Dilek peninsula, near today's Guzelcamli, stood Panionion, as...

Phygale

Once located 3 km north of Kusadasi, Phygale was known as one of the oldest settlements in the area. Two different...

Notion

Known as the harbor city of Colophon and its link to the sea, the site of ancient Notion, is 30 km north of Kusadasi on the...

Selcuk Castle

The well preserved Byzantine castle stands on the hill of Ayasuluk during 1500 years. As the castle was located at significant point...

Teos

Established early in the 1st millennium BC, ancient Teos, was a state of the Ionian Confederacy. The city lay over a hill that...

Select a Category

Historical Sites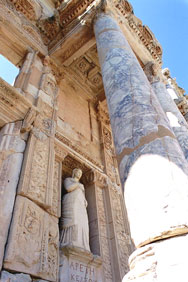 Ephesus is one of the world's most magnificent restored archeological sites of antiquity. You will enjoy privately guided Ephesus Tours, walking along the marble paving, almost hear the steps of marching Roman legions or the ardent preaching of St. Paul addressing the Ephesians.